Ride the Royal Enfield Bullet along the world's highest motorable roads to Leh located high on the Tibetan Plateau. This "Roof of the World" region known as Ladakh provides a rich variety of experiences, stunning scenery, remote monasteries and a wonderful variety of people - Tibetan, Indian, Nepalese, local ethnic tribes and nomadic herders.
The ride begins on the "Plains of India" before winding its way up through the Himalayan foothills which has many picturesque valleys, lakes, villages, rice paddies and orchards.
Manali is the last village before ascending up to the plateau and continuing through some amazing scenery to Leh.
Also included is an overnight trip to Agra to see the incomparable Taj Mahal, Agra Fort and the abandoned Moghul city of Fatehpur Sikri.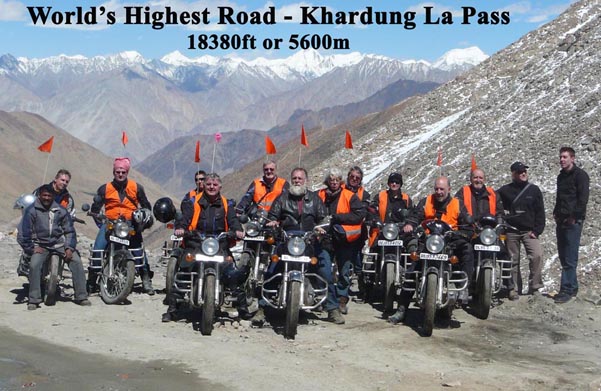 Please Note. This tour is for the experienced motorcyclist only. The riding conditions can be arduous along a variety of road conditions, high altitude, rough terrain and sometimes in adverse conditions. It is expected that riders are able to handle a motor bike competently and are fit and strong enough to cope with some demanding conditions.
Motor Bikes.These will be the Royal Enfield Bullets 500cc. The Enfields were originally produced in Britain. After WW2 the factory was transferred to Chennai ( Madras ) where they are still in production today. An experienced motorbike mechanic will accompany the tour. All fuel, maintenance, servicing and spares are included.