DELHI - Capital of India and a mixture of Hindu, Muslim and British architecture. The city consists of 2 parts - Old Delhi which was the capital of Muslim India between the 12th and 19th centuries and New Delhi the imperial city created by the British.
CHANDIGARH - Capital of the Punjab and purposely built in the 1950's by the French architect Le Corbusier.

SIMLA - ( 2130m or 6990ft ) This hill station was the "Summer Capital" of India during the British rule of India. It sprawls along a crescent shaped ridge with many houses clinging to the slopes. Along the ridge runs the Mall which is lined with stately English homes, theatres, shops and fine buildings such as the Viceroy Lodge and Gordon castle.
BILASPUR - Picturesque town overlooking a beautiful lake with boating and swimming.
KULU - ( 1200m or 3940ft ) This town stands at the beginning of the beautiful Kulu valley which is the gateway to Ladakh high up on the Tibetan plateau. The Kulu valley was isolated for centuries until the road was built. Its people are a colourful mixture of Nepalese, Tibetans and Indians. The rich soil, plentiful water supply and ideal climate provides perfect conditions for beautiful terraced rice paddies and a wide variety of fruit and vegetables.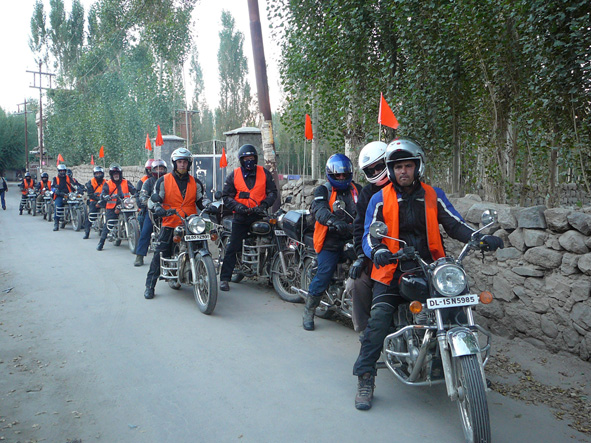 MANALI - ( 1400m or 4600ft ) The last town before the road winds its way up to the Tibetan plateau. A beautiful and vibrant town with spectacular scenery, temples and a wide variety of people. A great days ride up to the Rohtang Pass ( 4000m or 13000ft ) which is the entrance to the Ladakh region.
JOGINDERNAGAR - Picturesque small town situated in a beautiful valley with Buddhist and Hindu temples.
DHARAMSALA - ( 1500m or 4950ft ) Home of the exiled Dalai Lama and many other Tibetans forced to flee from the Chinese. Tibetan monasteries, schools, libraries, shops, restaurants, cultural centres and refugee camps makes this area a mini Tibet. Magnificent views of the Himalayas in one direction and the plains of India the other.
MANDI - Picturesque small town situated in a beautiful river valley with Buddhist and Hindu temples.
AGRA - It has a magnificent fort, a perfectly preserved but abandoned Moghul city called Fatehpur Sikri and one of the most famous buildings in the world - the Taj Mahal. The Taj Mahal was constructed by Emperor Shah Jahan in memory of his wife Mumtaz Mahal between 1632 and 1653. Although the Taj is amazingly graceful from almost any angle its the close up detail which is really astounding. Semi precious stones are inlaid into the marble in beautiful patterns and with superb craftmanship.